Living and working between Amsterdam and Paris, Noémie Lacroix is a multidisciplinary artist and tapestry weaver working mainly on paper and textile using a mix of medium such as screen printing, engraving and painting. Her works have been showcased in exhibitions in both France and Europe.
By simplifying her subject matter to basic geometric shapes, Lacroix creates movement and depth as her forms are displaced, moving on, in and above one another.
Weaving in and out through space, the artist successfully creates volume through the blocks of coloured material. Lacroix's works invite the viewer to reimagine and generate images and familiar objects through the wave of patterns she creates as they circulate, thicken, touch and evolve. These hanging gardens undulating in space are a sight to behold.
To the artist, her visual language serves as a scale for representation. The limitations of form situates themselves in the spaces that we allocate.
About
Exhibition
s
Field of Influences
2019
Silk, 100% made in France (twill 12)
140 x 190 cm
Edition of 5
Influences
2019
Silk, 100% made in France (twill 12)
140 x 190 cm
Edition of 15
"Gardens of the Mind"
Exhibition view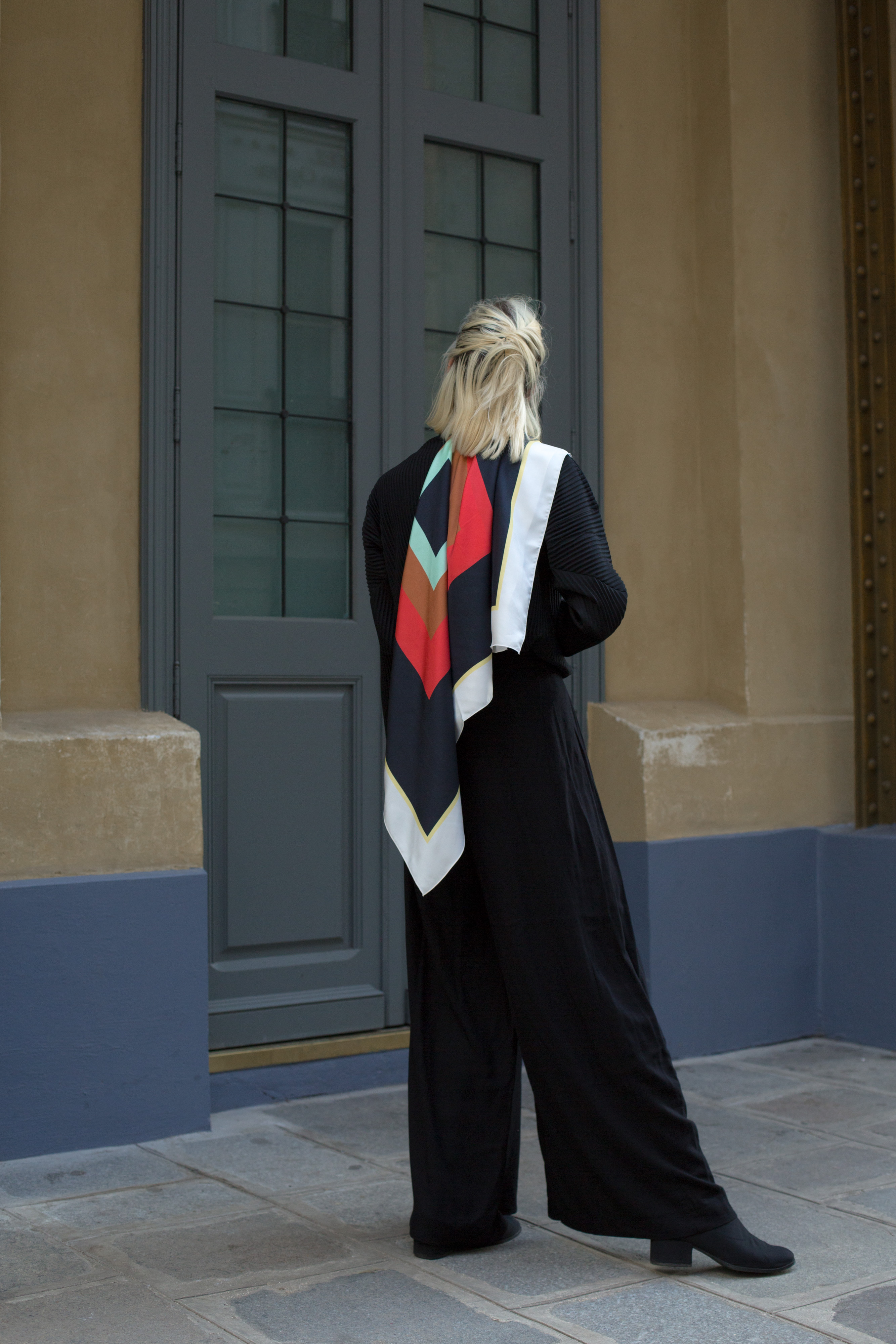 Fenêtre
2019
Silk, 100% made in France (twill 12)
140 x 190 cm
Edition of 15


Wave Fragments
2019
Silk, 100% made in France died in ink
Order made for la Villa d'Eaux
500 x 90 cm

Wave Fragments
2019
Silk, 100% made in France died in ink
Order made for la Villa d'Eaux
500 x 90 cm
State in Motion
2019
Silk, 100% made in France died in ink

Edition of 1
Sate in Motion
2019
Silk, 100% made in France died in ink
Edition of 1
Vitrail
2018
Silk, 100 % made in France (twill 14)
90 x 90cm
Edition of 100


Dancing Men 'Soliculus'
2019
Silk, 100 % made in France (twill 14)

90 x 90cm
Edition of 100

Amphore
2018
Silk, 100 % made in France (twill 14)
90 x 90cm
Edition of 100
Ponton & Rames
2018
2 stoles
Silk, 100 % made in France (twill 14)
180 x 45 cm
Edition of 100
Phanérograme
2019
Ink jet print with pencil and pastel drawing on Velin d'Arches 300g paper

40x 60 cm
Unique work
Plante
2019
Ink jet print with pencil and pastel drawing on Velin d'Arches 300g paper

40x 60 cm
Unique work