Jayde
Cardinalli
Jayde Cardinalli is a San Francisco-based designer and illustrator who takes inspiration from fashion, textiles, nature, and vintage children's books.
Jayde's drawings were recently featured on clothing for GUCCI's SS 2017 runway show, after the celebrated creative director Alessandro Michele discovered her ever-expanding creativity on Instagram.
Her work can also be found throughout Facebook in the form of animated characters, and in editorials including Elle, Vogue, and Vanity Fair.
About
Exhibitions
Publications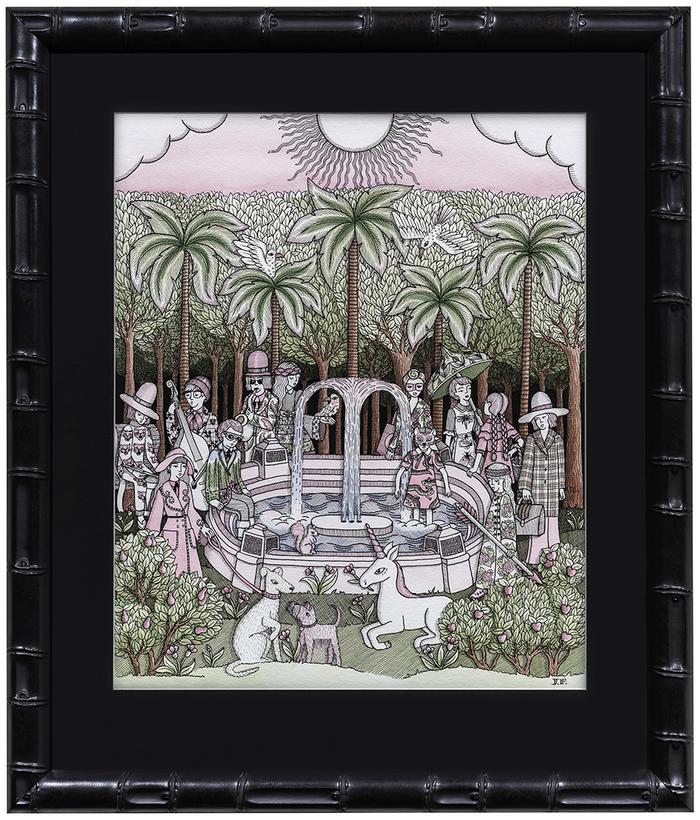 The Unicorn Is Found
2018
Ink on paper, hand carved teak frame
45,7 x 38,1 cm (18 x 15 in)
Frame: 59,7 x 50,8 cm (23,5 x 20 in)
Unique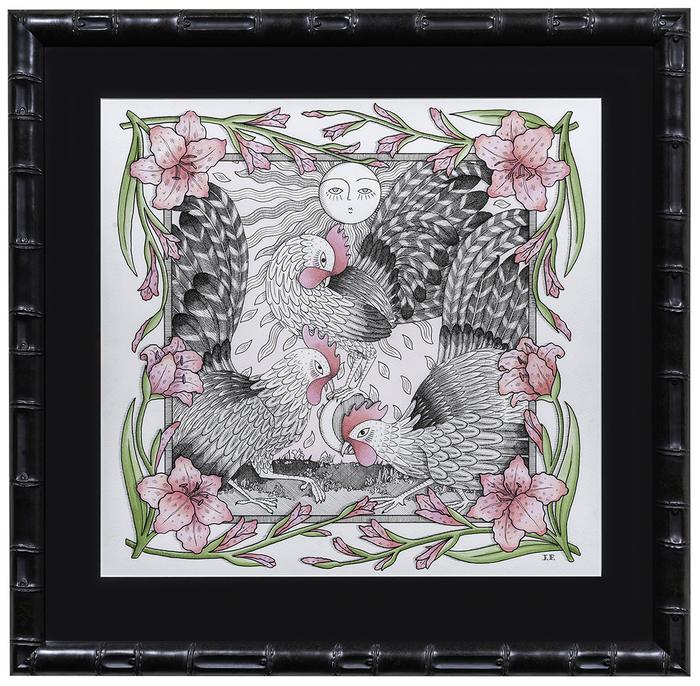 Year of the Rooster
2018
Ink on paper, hand carved teak frame
43,2 x 43,2 cm (17 x 17 in)
Frame: 59,7 x 59,7 cm (23,5 x 23,5 in)
Unique
The Fountain
2018
Ink on paper, hand carved teak frame
35,6 x 25,4 cm (14 x 10 in)
Frame: 45,7 x 35,6 cm (18 x 14 in)
Unique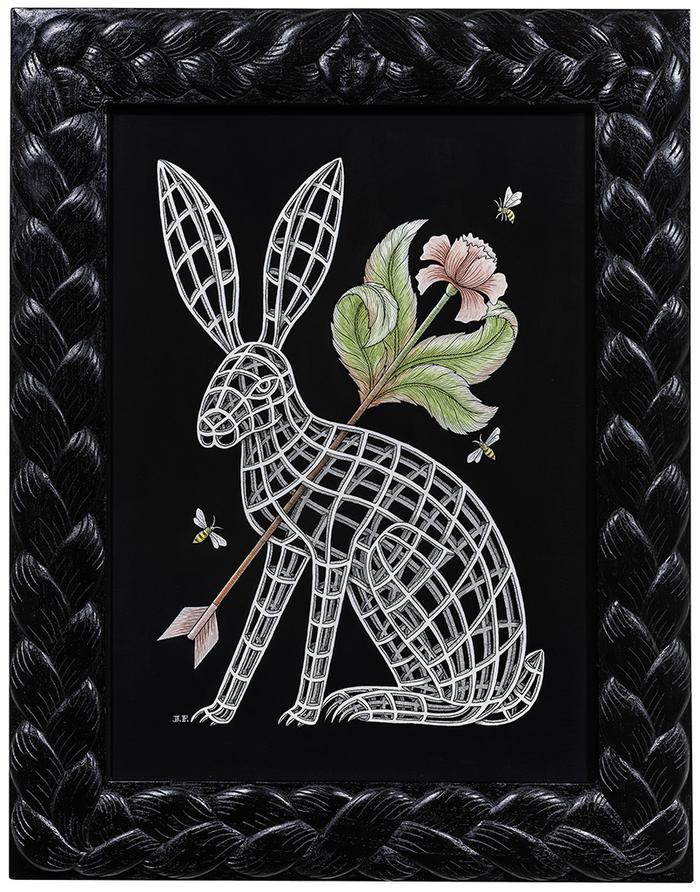 The Hare
2018
Ink on paper, hand carved teak frame
53,3 x 38,1 cm (21 x 15 in)
Frame: 66 x 53,3 cm (26 x 21 in)
Unique
The Arrow
2018
Ink on paper, hand carved teak frame
35,6 x 25,4 cm (14 x 10 in)
Frame: 45,7 x 35,6 cm (18 x 14 in)
Unique
The Wand
2018
Ink on paper, hand carved teak frame
35,6 x 25,4 cm (14 x 10 in)
Frame: 45,7 x 35,6 cm (18 x 14 in)
Unique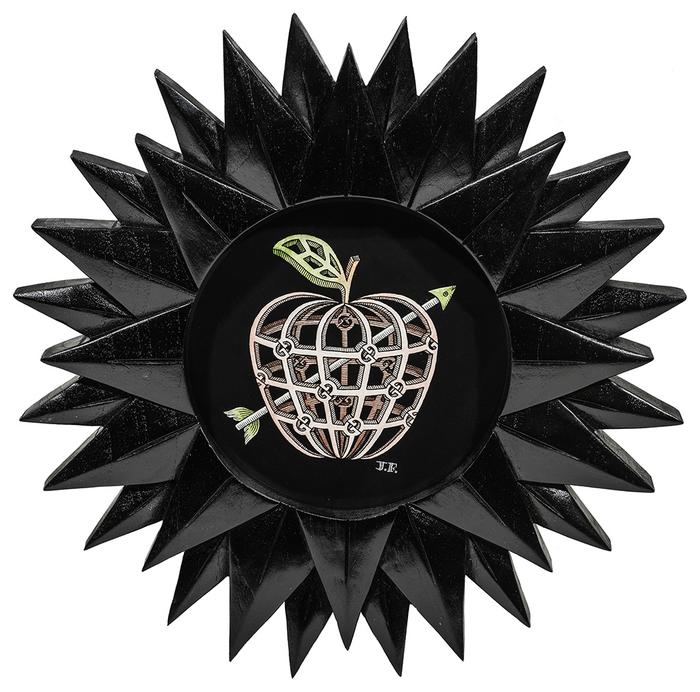 Temptation
2018
Ink on paper, hand carved teak frame
15,2 x 15,2 cm (6 x 6 in)
Frame: 30,4 x 30,4 cm (12 x 12 in)
Unique
The Garden
2018
Ink on paper, hand carved teak frame
30,5 x 30,5 cm (12 x 12 in)
Frame: 61 x 61 cm (24 x 24 in)
Unique
Change of Heart
2019
Ink on paper
27,9 x 20,3 cm (11 x 8 in)
Unique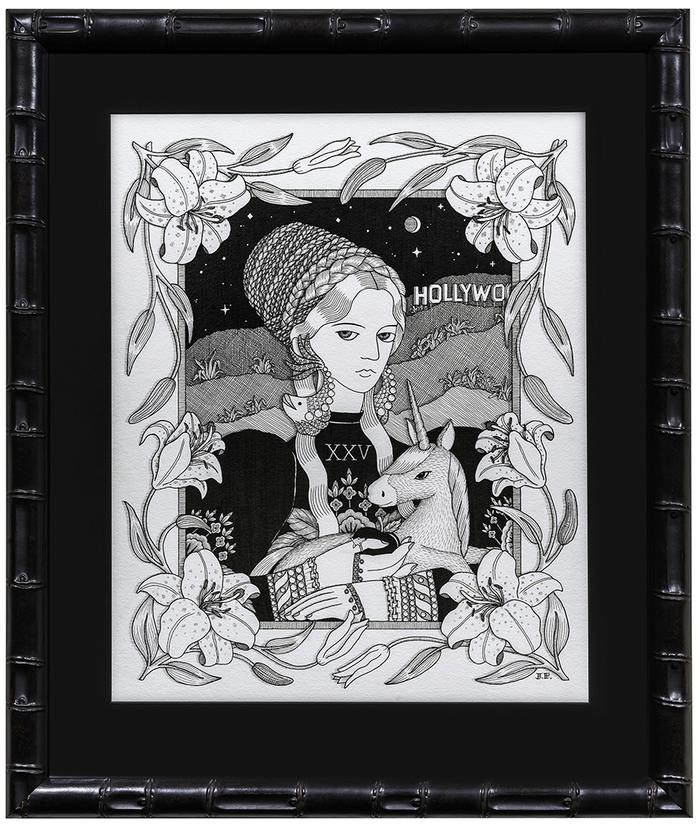 Hollywood Cemetery
2018
Ink on paper, hand carved teak frame
45,7 x 38,1 cm (18 x 15 in)
Frame: 61 x 53,3 cm (24 x 21 in)
Unique
El Cardón Gigante
2017
Ink on paper
41 x 51 cm (16 x 20 in)
Unique
The Inbetween
2019
Ink on paper
40,5 x 51 cm (14 x 20 in)
Unique
Weight of the World
Giclée Fine Art prints
28 x 35.5 cm (11 x 14 in)
Edition of 100
The Jungalow
Giclée Fine Art Print
28 x 35.5 cm (11 x 14 in)
Edition of 100